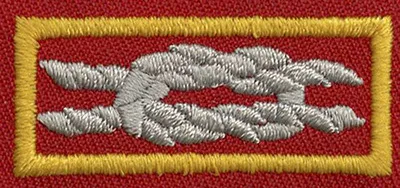 The Doctorate of Commissioner Science Knot Award is a comprehensive, multi-year program that is designed to not only teach the Commissioner about their role as a Commissioner, but to also have them develop either a thesis or project that others can use. The candidate must attend a total of 24 classes at the Bachelor, Masters, and Doctorate levels, earn their Arrowhead Honor and complete their Commissioner's Key, serve on a Commissioner College staff or instruct, and develop a project or thesis approved by the Council Commissioner or designee. The Doctorate award requires five years of any type of Commissioner server, and the successful candidate must also recruit three Commissioners.
To begin this journey, you'll want to look at the "Doctorate and Knot Award Guidebook." This guidebook will give you details on completing the Doctorate of Commissioner Science and the Doctorate of Commissioner Science Knot Award. You should then download the "Suggested Thesis/Project Proposal Form." This will help you connect with an advisor. This advisor will work with you to help you identify a worthwhile thesis or project and will help you work through that effort. You will also want to download the "Progress Record for Doctorate of Commissioner Science Knot Award," which will track your journey, starting with a Bachelor of Commissioner Science Degree, through your Master of Commissioner Science Degree, and ultimately to your Doctor of Commissioner Science Degree. You'll graduate with a better understanding of your role as a Commissioner and will be able to bring added value to the units that you support. Good luck on your journey!
If you wish to embark on or continue this program, be sure to register for the Indian Waters Council Commissioner College, which will have its next course day on Saturday, November 11 at Camp Coker. Here's the link to register: https://indianwaters.org/commissioner-college/. We hope to see you there!