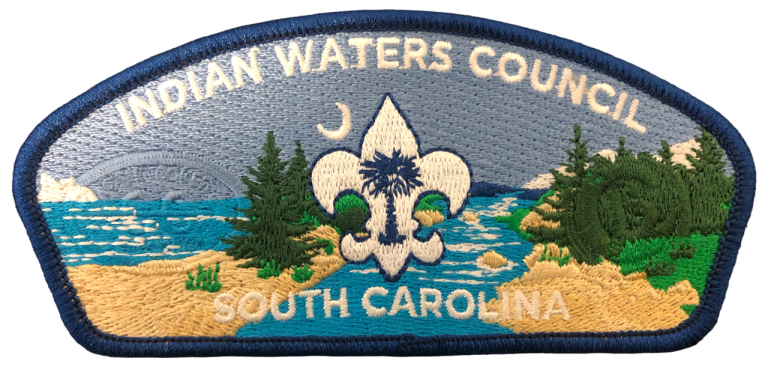 The new official Council Shoulder Patch (CSP) of the Indian Waters Council will be available for in-store purchase at one of our Scout Shops from Friday, June 23, 2023! 
Mail orders are also available by calling Diane Wheeler at: 843-662-6306.  The cost for this very special patch is $5.99 (+ Shipping for mail order).
*For limited time, we will cover all shipping costs.
Columbia Scout Shop
715 Betsy Drive, Columbia, SC 29210
https://indianwaters.org/scout-shop/
Phone: 803-798-0389
Scout Shop Hours:  M-F, 10 AM-5:30 PM; Saturday, 10 AM-3:00 PM
Florence Scout Shop
702 South Coit Street, Florence, SC  29501
https://indianwaters.org/scout-shop-florence/
Phone: 843-662-6306 
Scout Shop Hours: M-F, 8:30 AM-12:30 PM and 1:30-5:00 PM; Friday 8:30 AM-1:00 PM
About the design of this collectible, new and official Council Shoulder Patch…
The logo of the Indian Waters Council is prominently centered: South Carolina's Palmetto Tree (Sabal/Cabbage Palm) in navy blue and the white heraldic Crescent over the iconic BSA Fluer-de-li in white with thin navy blue border.
Thick dark-royal-blue embroidery surrounds the entire patch.
Dynamic imaging includes "ghosted" logos of the council's historic camps with the Camp Coker logo on the left and the Camp Barstow logo on the right, appearing as if "stamped" for approval.
The aqua blue images of the ocean/lake and stream/river, with white-stitched waves and current, represent the many bodies of water found throughout the council's 19 South Carolina counties for which the organization is named.
Tan images of sand, rocks, and sandhills; bright green flora and fauna; and forest-green Loblolly Pines reflect some of the ecology of our territory.
The council's name is stitched across the top in white capital letters surrounded by powder blue skies and white clouds.  Our state's name is similarly embroidered across the bottom. Both easily identify the council and state of our members.  
Note: The CSP should be worn (centered) on the left shoulder of the BSA field uniform by those who are youth or adult members of the Indian Waters Council.  While there is no council-level requirement or time-limit to replace old CSP's from uniforms, uniformity in attire and certain regalia among members is encouraged.