Indian Waters Council & Pee Dee Area Council
We are merging with Pee Dee Area Council on August 1st, 2022.
Proposed Merger Overview – Final
The respective volunteer boards of the Indian Waters Council (headquartered in Columbia, SC) and the Pee Dee Area Council (headquartered in Florence, SC) are strongly considering a merge to better serve Scouting youth and families in their 19-county territory in South Carolina's Midlands and Pee Dee regions.
By combining volunteer and program resources and by consolidating operational functions (membership registration, fundraising and program support, retail, and bookkeeping) more resources will be put towards growing Scouting and supporting its constituents. Both councils have been supporting Scouting for about a century and their combined resources will strengthen it for the next 100 years.
A Special Meeting of the voting membership will take place in both councils via Zoom on Monday, July 11, 2022. The proposed effective date of the merger is August 1, 2022. The voting membership includes chartered organization representatives and council members-at-large in each council. Following extensive research on the merger, the executive boards of both councils have voted to approve the merger.
The combined council's leadership will continue its work building the new foundation of Scouting throughout 2022, including adding professional staff, increasing volunteer training, bolstering its programming, membership support, and fundraising capacity, as well as continued youth leadership development through a strengthened Order of the Arrow program.
Each council has had volunteers represented on a "Merge Plan Committee." They were charged with working through the legal, program, financial and operational considerations to better serve our Scouts, families, volunteers, and communities.
Both camp properties – Camp Barstow and Camp Coker – will continue to be open and operating.
The combined Order of the Arrow lodge will use the Muscogee Lodge (#221) name with the creation of the Santee Chapter for the Pee Dee Area Council counties.
Both council offices and Scout shops will continue to be open and operating.
As of August 1, 2022, the combined councils will be known as the Indian Waters Council (#553).
| | |
| --- | --- |
| Representing Indian Waters | Representing Pee Dee Area |
| Mike Harris, IWC President | Phil Bethune, PDAC President |
| Jason Millman, IWC Commissioner | Diane Bauer, PDAC Commissioner |
| Bill Eisele, IWC VP Properties | Walt Barefoot, PDAC Legal Counsel |
| Mason Thomas, IWC VP Program | Webb Jones, PDAC VP Endowment |
| Wesley Peel, IWC Legal Counsel | Porter Stewart, PDAC Board Member |
| Chip Payne, IWC VP Operations | David Lee, PDAC Board Member |
| Robert Stewart, IWC Advisory Board | David Warner, PDAC Board Member |
| Greg McDaniel, IWC VP Camping | Kenneth McIver, PDAC Board Member |
| Ron Hill, IWC VP Marketing | JD Chaplin, PDAC Board Member |
| Smitty Harrison, IWC EVP | Tim Norwood, PDAC Board Member |
| Brad Hutto, IWC Board Member | Michael Hesbach, PDAC Board Member |
| Doug Stone, IWC Scout Executive |   |
about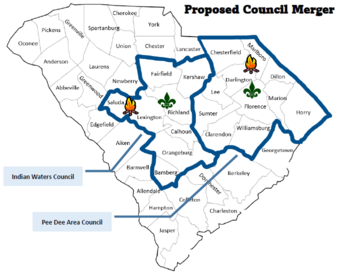 Contacts for Merger Questions
| | | | |
| --- | --- | --- | --- |
| Merger Questions for PDAC | Phil Bethune | (843) 655-4562 | philbethune@gmail.com |
| Merger Questions for IWC | Mike Harris | (803) 446-3160 | Mike.e.harris@bcbssc.com |
| Columbia Office | Doug Stone | (803) 750-9868 | Douglas.Stone@scouting.org |
| Florence Office | Diane Wheeler | (843) 954-3122 | Diane.Wheeler@scouting.org |
| Camp Barstow | Bill Eisele | (803) 609-3774 | bilehuwh@aol.com |
| Camp Coker | David Warner | (858) 740-8600 | dswarner@dswarner.net |
| BSA Territory 15 | Rodney Carpenter | (919) 802-3886 | Rodney.Carpenter@scouting.org |